The Balfour Halevy Special Collections has acquired an exciting new item, The Lawes Resolution of Women's Rights, also known as The Woman's Lawyer. Why is this exciting? The Woman's Lawyer is the earliest work in English devoted to laws relating exclusively to women. Some particular topics include the age of consent, dower, hermaphrodites, polygamy, wooing, partition, chattels, divorce, descent, seisin, treason, felonies and rape. This 1632 text was authored anonymously, but is commonly attributed to either Thomas Edgar or Sir John Doderidge, an important legal figure during the reign of James I.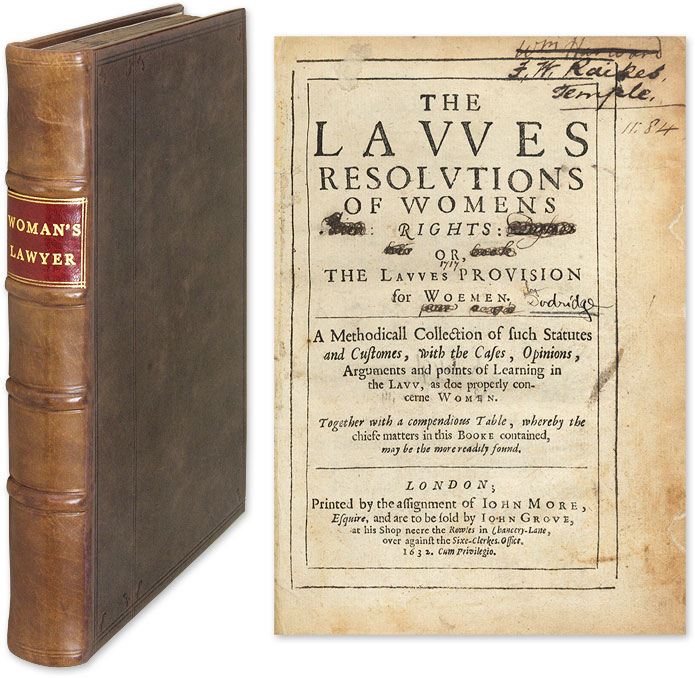 Though the title refers to "women's rights", its meaning is foreign to us who today think of suffrage, the fight for equality, and modern feminism when we hear the phrase. This book early on references the "especiall bane" suffered by women for Eve's transgression in Eden, and takes this same sin as the reason "that Women have no voyse in Parliament, They make no Lawes, they consent to none, they abrogate none." Here, women's rights refers only to the rights of women in all their limitations, and is not a treatise for their advancement.
Nevertheless, the specific attention to the place of women in the law might be a step in the right direction, albeit a small one. Indeed, the work makes no judgment as to the correctness or morality of the laws contained therein, but only claims to collect them so that "profitable and usefull Learning [...] be well knowne". The editor laments the difficulty the law poses to the common person, and praises the author, who has made "this scattered part of Learning, in the great Volumes of the Common-Law-Bookes, and there darkly described, to be one entyre body, and more ready, and clearer to the view of the Reader". The Norton Anthology generously describes how the work would "help women understand how the law impinged on them", so this book may have, in compiling legislation related to women, simply highlighted the astounding injustice afforded them in the period. Bravo, anonymous author!
In addition to finding this book in our special collections, you can find an excellent digitized edition of the text via the London School of Economics library or, if you can dispense with page scans, a searchable text is available via the University of Michigan.