We at the library would like to offer heartfelt congratulations to Osgoode's Class of '55, who recently celebrated their 60th Anniversary reunion! Helmed by Mr Morley Wolfe, the Class of '55 took this occasion to offer the library a sum collected at their get-together, to be dedicated to collection development. This donation allowed the library to purchase a rare piece of Canadiana, an eight-page pamphlet detailing the trial of a pirate, "a Canadian by birth", published in Philadelphia in 1800: The Confession of Joseph Baker, A Canadian by Birth, Who, For Murder & Piracy on the High Seas on Board the Schooner Eliza […] Was Tried On the 25th of April, 1800. As far as we can determine, ours is the only copy in Canada.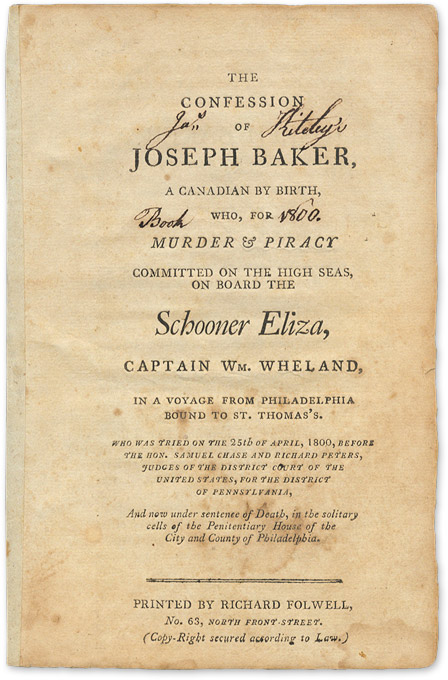 Our bookseller, from whom we acquired the pamphlet, summarized the already brief account thus:
Baker, whose real name was Boulanger, with La Croix (alias for Peterson) and La Roche (alias for Berrouse or Brous) killed the mate and supercargo on the schooner Eliza, but only wounded Captain Wheland. They agreed to let him live so he could navigate the ship 'to the Spanish Main.' Seizing a chance when two of the culprits were below deck, Wheland locked them in the cabin, and with an ax, drove the third into a rigging. He reached St. Kitts fourteen days later, and his three prisoners were brought back to Philadelphia in the U.S. sloop of war Ganges. Baker states that he was born at Trois-Rivieres, Quebec, in 1779, and came to New York City in 1799, where he joined with La Roche (Brous) and La Croix (Peterson), probably "a Dane or Swede," according to Captain Wheland, whose Narrative of the Horrid Murder & Piracy was also published by Folwell at the same time as Baker's Confession. Wheland's account is detailed and graphic; Baker's is even more so. Baker claimed to be a reluctant pirate who was forced into action by La Roche. As he tells it, Baker was ordered by La Roche and La Croix, who had also capitulated to La Roche, to "take the captain's sword, and if he was a-sleep, to run it through his body, and if I did not do it, they would kill me: I went down but I could not find it in my heart to kill the captain, but struck him on the hand with a hatchet; he then jumped up and made a catch at me, and I then struck him on the head. Immediately I ran up on deck: Brous then attempted to kill me, because I had not killed the captain ..." In his Narrative Wheland draws no distinction between Baker and the others that might reduce his culpability. Nor did the court. All were sentenced to hang. The confession is dated May 8th, 1800, one day before Baker and two accomplices were to be executed.
Reading Baker's confession, I cannot help but be touched by his affirmations of innocence and reluctant participation in the crime. Apparently I'd make a terrible judge. The pamphlet is available online through the Library of Congress here, but if you have a connection through York, you can find higher quality scans through HeinOnline and Early American imprints, Series I, Evans (1639-1800). If Baker's confession is of interest to you, the Library of Congress maintains an excellent collection of piracy trials, most of which are available online here.
Mr Wolfe, pleased to hear about the purchase facilitated by his class's generous donation, was kind enough to stop by the library to see our new pamphlet first-hand.
While visiting, Mr Wolfe also took some time to admire another donation of which he was a major part - that of his Notable Trials Library. These book club editions, with their decorated, quarter-leather custom bindings and gilt edges agleam, add distinction to any shelf. These editions are reprints of classic works of trial literature, covering everything from the trial of Socrates right up to the Cold War era's most contentious courtroom battles. Each book features a short introductory essay by celebrated American lawyer Alan M. Dershowitz that contextualizes the trial and explains just why it is "notable". From historic precedents to the attendant media frenzies, reverberations from these trials ring throughout the legal landscape still. Dershowitz himself is, among other things, a noted criminal lawyer. He is perhaps best remembered in this capacity for representing Claus von Bülow for the attempted murder of his wife, Sunny von Bülow, recounted in Dershowitz's own Reversal of Fortune: Inside the von Bülow Case (which is, of course, one of the volumes in this collection). A list of Mr. Wolfe's trial library can be viewed here.
A sincere thank you to Mr. Wolfe and the rest of the Class of '55 for their donations to our collections! We're always on the lookout for Legal Canadiana and were happy to be able to add this curious account of a Canadian pirate to our trial holdings.