You may know Irwin Law for publishing core Canadian legal titles used for many of your course readings. Please note, that if you're trying to access the "Irwin Law Essentials of Canadian Law Series", it has recently been migrated to a new platform called vLex. Follow the steps detailed below to access the vLex platform and Essentials of Canadian Law titles.
In the OMNI catalogue, enter the title "Bank and customer law in Canada" in the search box. Click on the book record to access the text online:

Under Full text availability, click on Irwin Law E-Books (vLex).
This will take you to the text on the vLexJustis website. Note that if you are searching off-campus, you will be asked to authenticate with your Passport York user ID and password.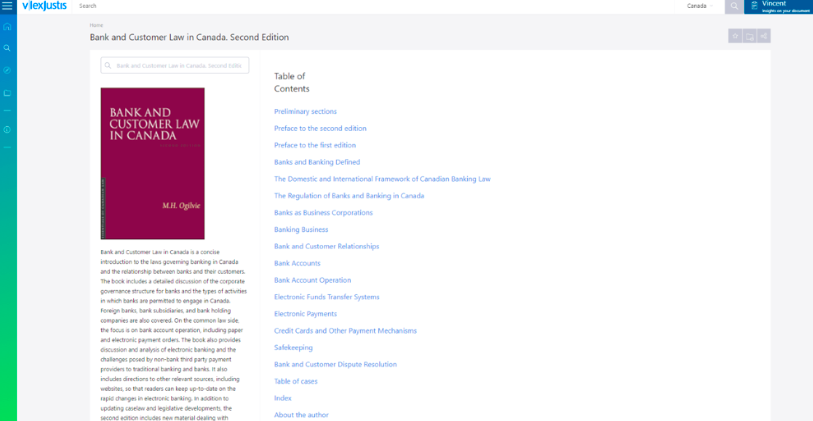 To find a list of all the Irwin Law titles on the vLex platform, select Browse from the left panel of the home page.
Then, select Books & Journals.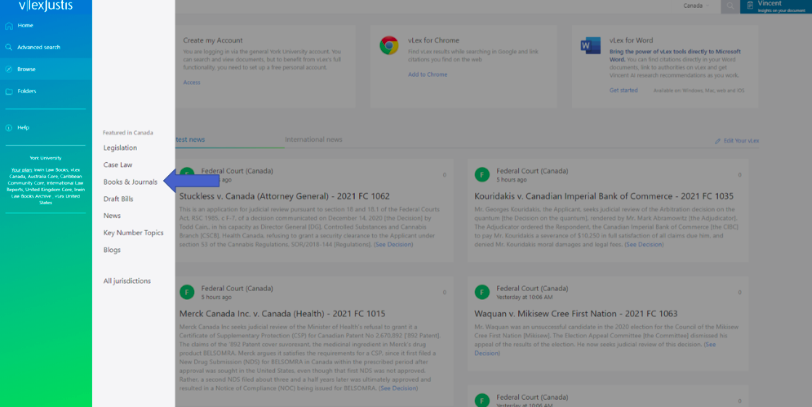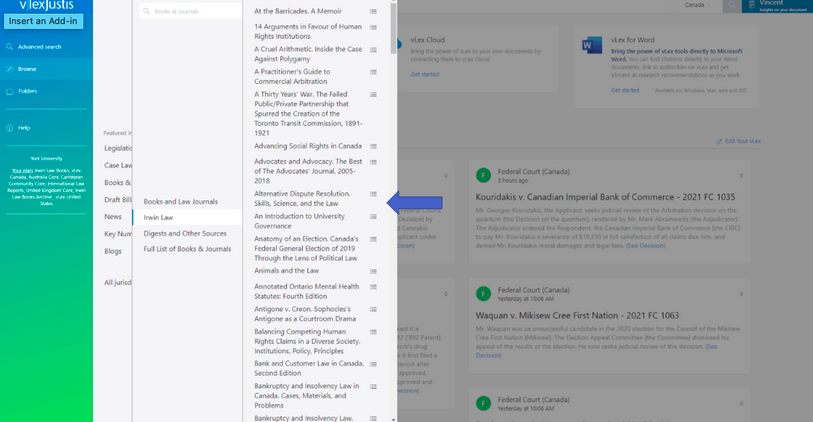 Here is a list of selected titles in the series:
Animals and the Law
Bank and Customer Law in Canada, 2/e
Bankruptcy and Insolvency Law, 2/e
Canadian Competition Law and Policy
Canadian Maritime Law 2/e
Computer Law, 2/e
Franchise Law
Income Tax Law, 2/e
Insurance Law, 2/e
Intellectual Property Law, 2/e
Mergers, Acquisitions and Other Changes of Corporate Control, 3/e
Pension Law 3/e
Securities Law 2/e
The law of partnerships and corporations 4/e
The Law of Trusts, 3/e
Information and Privacy Law in Canada
Statutory Interpretation 3/e
Criminal Law 7/e
Criminal Procedure 4/e
Detention and Arrest 2/e
Ethics and Criminal Law, 2/e
International and Transnational Criminal Law 3/e
Youth Criminal Justice Law, 3/e
Individual Employment Law, 2/e
Environmental Law 5/e
Civil Litigation
Legal Ethics and Professional Responsibility, 2/e
Legal Research and Writing, 4/e
The Law of Equitable Remedies, 2/e
The Law of Evidence, 8/e
Freedom of Conscience and Religion
Fundamental Justice 2/e
International Human Rights Law
Refugee Law 2/e
Religious Institutions and the Law in Canada 4/e
The Charter of Rights and Freedoms 6/e
Immigration Law, 2/e
Conflict of Laws 2/e
Public International Law, 2/e
Land-Use Planning
Personal Property Security Law, 2/e
Public Lands and Resources Law in Canada
The Law of Bailment
The Law of Property
The Law of Torts, 6/e
For additional access information, including platform restrictions and useful features on vLex and more, see our Finding Law e-Books guide.
For research assistance, contact the reference desk at lawref@osgoode.yorku.ca