Open Access Week 2018 is here! The international celebration of open access (OA) will run from October 22nd-28th. This year's theme is "designing equitable foundations for open access". What does this theme mean? To me, it means spreading the word far and wide on some core OA concepts, which will hopefully translate into inspiration and engagement with OA initiatives.
And so, with knowledge sharing in mind, here are 8 things everyone should know about OA.
1. What Is Open Access?
Graphic from PHD Comics
Open access refers to the availability of scholarly literature. Peter Suber (Director, Harvard Office for Scholarly Communication) has provided a great definition of OA in his book Open Access (the MIT Press Essential Knowledge Series, 2012):
"Open access literature is digital, online, free of charge, and free of most copyright and licensing restrictions."[1]
2. Open Access Options

Graphic from the SDSU OA LibGuide
Some authors find green OA intimidating to embark on. Why? Prior to self-archiving, authors must make sure the publisher's copyright and licensing restrictions permit the submission of their work to OA repositories. In some cases, these policies can be confusing, difficult to find, or non-existent.
At Osgoode Hall Law Library we can provide support with this. Get in touch with our Digital Services Assistant for more information.
3. Save Your Post-Prints
Graphic from AUT OA LibGuide.
A paper goes through three version stages during the publishing process.
Each paper version allows authors to take different actions it terms of achieving open access via self-archiving.
Post-prints/accepted manuscripts usually remain under the author's control, which means they are free to submit them to open access repositories.
4. The Author Addendum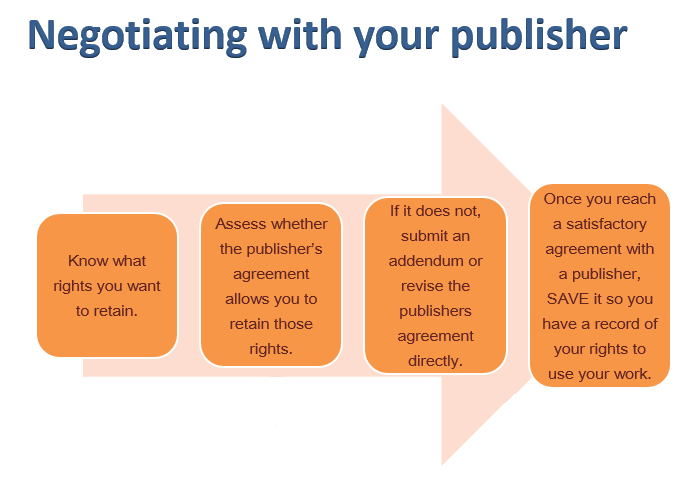 Graphic adapted from Cornell University Library LibGuide
In order to have the freedom to further develop and disseminate their work, authors must retain some rights by negotiating their publishing contracts.
The Canadian SPARC Author Addendum is a tool that can be used by authors to negotiate with publishers the retention of their author rights, such as the right to share and reuse their work, including making their work available to all via an open access repository.[2]
5. The Tri-Agency Policy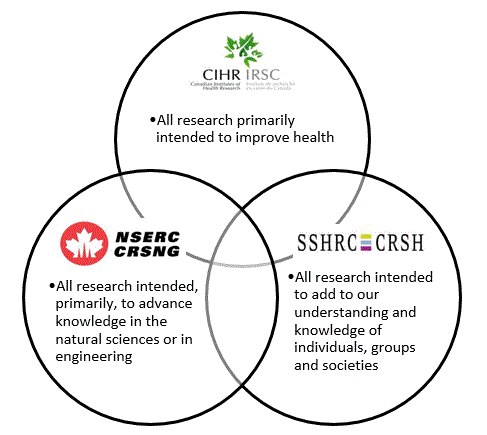 Graphic from the McGill Tri-Agency Administration Guide
The Tri-Agency Open Access Policy states that all publications resulting from grants awarded by the three Agencies must be made freely available to the public no later than 12 months after its publication.
There are two options for complying with the policy: publishing via Gold OA or Green OA as discussed in point #2.
6. Benefits Of Open Access
Graphic from the Australian OA Strategy Group
Here are just a few of the benefits of publishing in open access:
Increased visibility of scholarship
Greater discoverability of scholarship
Higher metrics
Greater potential for collaboration
Retention of author right
7. Open Access Journals Quality

Graphic from the OA Academy
Authors are often perplexed by the reputability and prestige of OA journals. There are several easy to use online resources to help you choose a quality OA journal.
The Quality Open Access Market (QOAM) directory lists OA journals that have received quality scoring via academic crowd sourcing. The Directory of Open Access Journals (DOAJ) lists high quality and peer-reviewed OA journals. The bepress legal scholarship journals page lists primarily North American OA law journals.
8. Open Access As Part Of The Whole
Graphic from ECU Libraries Open Educational Resources LibGuide
Once a single entity, open access has in recent times brought forth the emergence of several related categories that are now steadily growing into their own initiatives[3]:
Open science: applying the principle of openness to the entire scientific research cycle.
Open data: making data freely available online.
Open education: making educational resources and practices freely available online.
Open notebooks: online live-sharing of primary research records.
There we have it! The 8 core concepts about open access that everyone should know. Armed with this knowledge about OA and what it can do, I hope you feel inspired to incorporate this practice into your academic publishing activities and share your work with your scholarly community, with the public, and with the whole world.
For questions or help with any of the above, please reach out to the Library's Digital Services Assistant.
[1] Suber, Peter. Open Access, Cambridge, MA: the MIT Press Essential Knowledge Series, 2012.
[2] SPARC. Author Rights & the SPARC Author Addendum. Retrieved on October 18, 2018 from http://www.carl-abrc.ca/wp-content/uploads/2019/05/CARL_Guide_Cdn_addendum_EN_2019.pdf.
[3] University of Toronto Libraries. Open Access. Retrieved on October 18, 2018 from https://onesearch.library.utoronto.ca/copyright/open-access.